Tandem Skydive with Video & Photos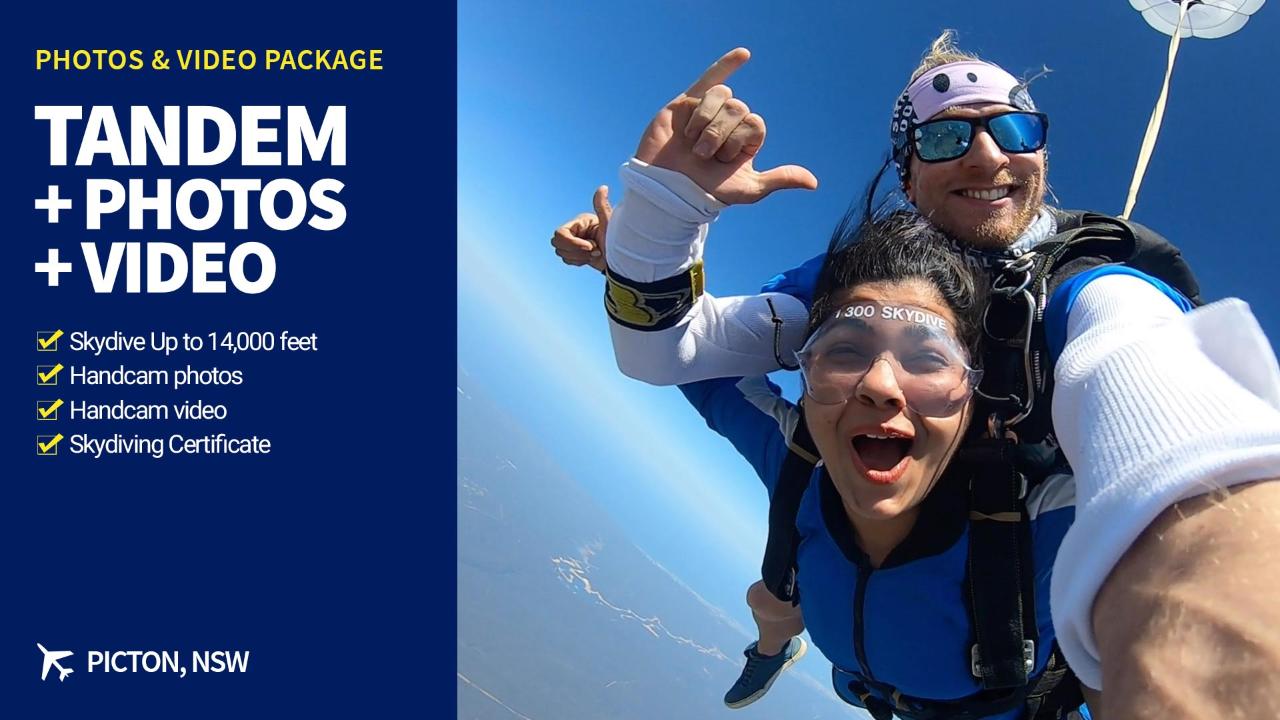 Duration: 3 Hours
Location: Wilton, NSW
Product code: PXP2Q1
This is hands down the best value Tandem Skydive deal in Sydney. Experience freefalling at over 200 km/h with one of our experienced skydive instructors, followed by a stunning gentle ride on a parachute to the ground. We have been jumping out of planes for over 50 years. Book your tandem skydive with Sydney Skydivers in Picton today for the thrill of a lifetime! This is a package including Handcam Video & Photos.
Your instructor will wear a wrist-mounted action camera, capturing selfie-style photos and video: on the ground, in the plane, in freefall, during your parachute ride and after landing. You will receive approx. 150 photos and a 5 min video edit with music. Express yourself and include any message you want.

20 minute flight from up to 15,000ft

Panoramic views from the Blue Mountains to the Coast. On a clear day you can see Sydney City skyline

Up to 60 seconds of exhilarating freefall

5 - 7 minute parachute ride back to where you started

5 min video edit of your experience with music and around 150 photos

Full colour certificate to prove that you actually jumped out of a plane
We are Sydney's only skydiving centre with our own airport and drop zone in one location. Make a day of it, bring the family and friends to watch all the action. They can watch you gear up and get on the plane, then you will land right in front of them.
There's plenty of room for picnics and BBQs. We have snacks, drinks & barista served coffee available.
We are located just 15 minutes south of Cambelltown. Take the Picton exit, turn right and we're right there.

745 Picton Road, Wilton 2571